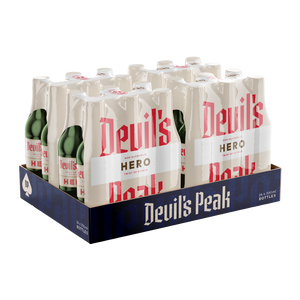 Hero Twist of Citrus Non-Alcoholic | 0.5% Alc. Vol 330ml
So you don't want the alcohol. But you want the real taste of a crafted, authentic, premium beer? With those crisp, hoppy beer flavours, aromas and mouthfeel. Yep. We get it. It is a matter of taste. At Devil's Peak we are proud to brew a hero that's close to zero and still tastes like a full beer, now with a twist of citrus. To be enjoyed when the occasion demands.
R300.00 Including VAT and Delivery 
If you wish to follow up on your order status, please email us on info@signalhillproducts.com
Please note all orders can take up to 3- 5 working days to be delivered to main city centers and can take up to 10 working days for outlying areas. 
The Devil's Peak Hero Twist of Citrus Non-Alcoholic | 24 x 330ml NRBs | 0.5% ALC/VOL is a sensational customer favorite, and we hope you like it just as much.

Inventory Last Updated: Dec 01, 2023