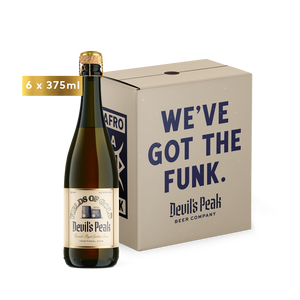 6 x 375ml Fields of Gold 
7.5% Alc. Vol.
Showing the purity and elegance of what could be classified as a totally unadulterated sour. An ode to our first ever release some 10 years prior, way before we undertook to journey into the sours and wild beers, we have produced this beer with simplicity in the process while allowing the true expression of sour characteristics and nuances to shine. 
A truly racy acidity provides freshness and vibrance while the low ABV makes for remarkable drinkability. 
Drink now but do not be afraid to cellar further for further enjoyment in years to come. 
A golden ale soured in 2500L French oak foudres. Dominated by yellow fruits, floral perfume-like nose with a lovely robust acidity and a lengthy finish.
If you wish to follow up on your order status, please email us at info@signalhillproducts.com
The Devil's Peak Fields Of Gold | Barrel-Aged Golden Sour | 6 x 375ml NRBs | 7.5% ALC/VOL is far and away, one of our most popular items. People can't seem to get enough of it.

Inventory Last Updated: Oct 01, 2023